I recently discovered
Serena and Lily
. Really cool, unique stuff. One of the items that caught my eye was this rolling toy storage crate: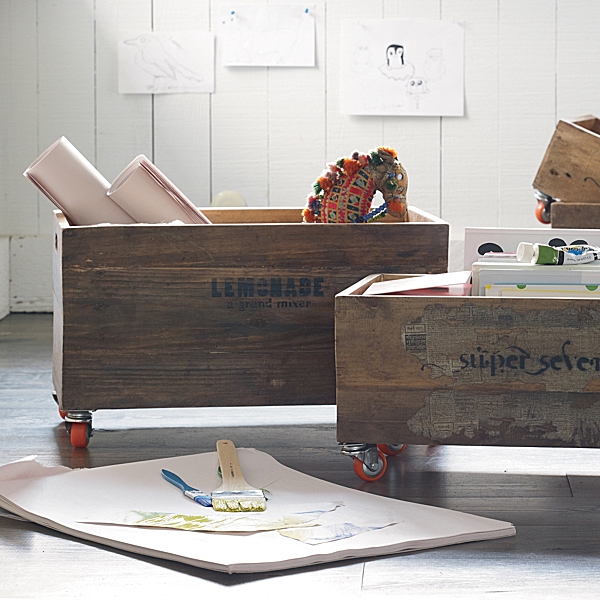 Here is our version turned out:
Supplies:
Crates

Foam

Batting

Fabric

Casters

Staple Gun

Plywood

Poly (optional if you want to seal the sides, depending on the crate's condition)

A really good sport dad willing to do a lot of the legwork for you
My parents saved these vintage crates from my great grandparent's apple orchard so this part was free:
My dad did the boring work for us by attaching a piece of plywood to the bottom of each crate to stabilize as well as 4 casters onto each of our crates. We were on a roll (pun intended). I sanded the crates to knock off any splinters and then spray poly'ed the crates to smooth/seal the wood. The best part of our crates were the vintage labels so in order to protect them I coated them with a few coats of Mod Podge. Then our bases were ready.
We upgraded our version of the rolling storage by adding an upholstered top. Lowes precut all the plywood into the sizes we needed and covered in foam, batting, fabric and stapled. No real science there, just make it look neat.
Easy peasy apple squeezy!